Businesses • Government agencies • Universities, colleges, & schools • Non-profits • Advocacy groups • Charity ride organizations • Cycling clubs
Volume discounts are available. Details below.
---
---
Providing online cycling skills training for your personnel:
---
For complimentary course access and to request a volume discount, complete the form at the bottom of the page. » Go to form.
---
Hi, Allan.

I think the team is really learning a lot from your courses! WE certainly appreciate all of the effort that went into making them.

Thanks so much. You really have been wonderful to work with!

— Rachelle G, Office Manager & HR Administrator,
Accel Robotics, San Diego, CA

Why provide online cycling skills training for your personnel?
Benefits to you
Benefits to you & your organization of offering this training:
Reduce the likelihood of a cycling crash / collision / lawsuit.
Protect your company's image by improving riders' interactions in public.
Increase the number who ride their bike to work.
Boost the confidence and competence of current riders (and encourage them to ride to work more often).
Decrease demand on your costly parking facilities.
Improve your ability to attract & retain personnel.
Raise their workplace contentment & loyalty.
Increase your opportunities for securing sustainability grants.
Help gain or improve your organization's ranking in the League of American Bicyclists' Bicycle Friendly America program:
Bicycle Friendly State / Bicycle Friendly Community / Bicycle Friendly University / Bicycle Friendly Business
What participants will take away
By taking this course, they will:
Gain skills to become more competent, co-operative, & comfortable in traffic.
Discover the rights and duties they have while riding.
Explore proven ways to encourage more drivers to respect their rights.
Understand the impact of their actions in traffic, and how they can bring about positive interactions.
Represent your organization in a more positive way while riding.
Reduce their likelihood of a crash or collision, a traffic ticket, or a lawsuit.
Exceeds national standards
Above and beyond:
The course significantly exceeds the traffic skills training requirements for the national programs in the United States and Canada:
Its content and methodology were modeled after state and provincial government standards for defensive driving courses.
With more than 21 years' experience as an instructor, the primary course developer has been both a Master Instructor with the League of American Bicyclists and a National Examiner with the Canadian Cycling Association (now Cycling Canada).
Others with these credentials, and numerous instructors with each program, helped develop and review the content and delivery.
Highly effective
It works exceptionally well:
In a survey directly following the course, participants have been asked the following questions. Here are the responses to date:
"Has this training influenced you
to ride according to the law?"
88%
said 'Yes.'
"Did this training help you
feel more confident about cycling in traffic?"
93%
said 'Yes.'
We make it easy
Elements that make this a wise investment:
We handle all the logistics:

Registrations.
Questions from participants.
Tracking and reporting of course progress, completion, and feedback.
Issuing verified certificates of completion.

Created by skilled and experienced cycling instructors, specifically for cyclists.
Proven content and platform.
Multiple features to ensure full compliance with training requirements.
Security features for Certificates of Completion and their delivery.
We have years of experience in multiple jurisdictions.
---
"This is such an excellent resource. I've been commuting to school/work for 12 years and consider myself to be a pretty good rider, but I learned so much here. I've read plenty of things online and even a few books, but this addressed a lot of concerns I had and presented new info in a way that's easy to comprehend (the graphics and videos helped a lot).

"I liked that I could go back in when I wanted and it kept my place.

"I've been trying out what I learned on my rides this week, and it's already making a big difference. Thanks!"

— Stephen R.
---
Would you like to review the course first, to see if it fits your needs?
Simply complete the form at the bottom of the page, and we will provide you with complimentary access. » Go to form.
---

Info sheet for decision-makers, and course brochure: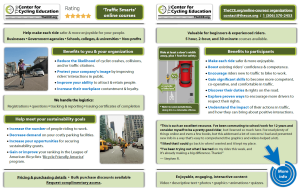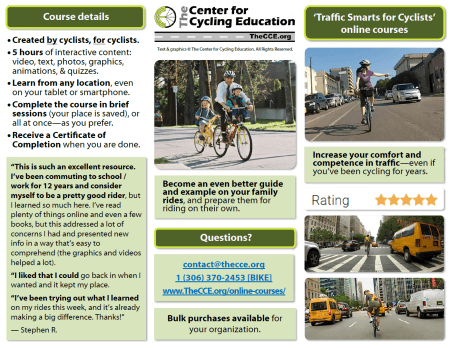 ---
Three options to fit your budget
Pricing
Complimentary access & inquiries
The purchasing steps
Get access now
---
For complimentary course access and to request a volume discount, complete the form at the bottom of the page. » Go to form.
---

Sample sections from our courses:
(Links open in new window.)
Traffic skills
Bike handling skills
Equipment
---
Complimentary access form
To be sure you receive our response to your form submission, please:
• Provide your phone number (optional) so we can reach you if our reply is lost or accidentally deleted.
• Check your spam/junk mail folder.

The form should display directly below. If it is not visible, please
email us at contact@thecce.org, or call/text us at 1 (306) 370-2453.