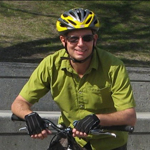 Allan Dunlop is the Director of the Center for Cycling Education.
Allan is the first person in North America to be certified to train cycling instructors in both the United States and Canada, as Master Instructor with the League of American Bicyclists' Smart Cycling program, and a National Examiner with Cycling Canada's CAN-BIKE program.
He has had the role of lead instructor and instructor trainer with many cycling education programs in both the United States and Canada. Allan is responsible for the development and improvement of a wide range of public education materials, student education programs and instructor development programs. He has trained more than 7200 students of all ages, and has trained and mentored many instructors.
Defensive Cycling program & online traffic skills courses
In the spring of 2010, he developed the Defensive Cycling curriculum for the traffic citation dismissal program in Austin, Texas. This was an initiative of the Austin Cycling Association (now BikeAustin) and the Austin Municipal Court.
In the fall of 2012, the first interactive, online traffic skills course for cyclists was released. In April 2013, the online course was accepted by the Austin Municipal Court for fulfilling the requirements of the Defensive Cycling program. A North America-wide version of the online course was released in December 2014, and separate courses created for the USA and Canada in February 2015.
Previous cycling education positions
In addition to his current training capacities, he was the Lead Instructor and Instructor Trainer (2003 – 2004) and Instructor (2002) with Bike to Work Victoria's adult Traffic Skills Course. As well, he was Lead Instructor and Instructor Trainer for the Insurance Corporation of British Columbia's Bike Smarts school program in Greater Victoria, British Columbia (2002 – 2009).
City-wide cycling event coordination
His many roles in cycling advocacy and public education include coordinating numerous city-wide cycling events. Allan was Co-Coordinator of Bike to Work Week 2002 (Victoria, BC, Canada), and Coordinator of Bike Week (2000), Bike Month (2001) and the Commuter Challenge (2000 and 2001) in Nanaimo, BC, Canada.
Cycling advocacy roles
Positions held include Director with the Greater Victoria Cycling Coalition, Vice-Chair of the City of Victoria's Cycling Advisory Committee, and President of the British Columbia Cycling Coalition (BCCC). He was a member of the group that worked to bring the Pro Bike/Pro Walk Conference (as it was then known) to Victoria, BC in 2004.
Education background
Allan's post-secondary education involves the Bachelor of Science program in Biology (University of Victoria – Victoria, BC / University of Guelph – Guelph, ON) and the Associate of Arts program in Business (Camosun College – Victoria, BC).
A family history with bikes
He has been a cyclist since 1969, when his Dad built him his first bike. His grandfather and two great uncles each owned bike shops in Wales, and his father was a bike mechanic for a time in Wales and the United States just after World War II.
Instructing credentials
Creator of the first commercial, online course used for cycling ticket dismissal in the United States.
First person in North America to be certified to train instructors in both the United States and Canada
Has taught cycling traffic safety to more than 7000 individuals, in-person, on-bike and online.
Director (2008—present) — Center for Cycling Education
Nationally certified Smart Cycling Master Instructor — League of American Bicyclists (2008)
Nationally certified CAN-BIKE National Examiner — Canadian Cycling Association (now Cycling Canada) (2007)
Nationally certified CAN-BIKE Instructor — Canadian Cycling Association (now Cycling Canada) (2004)
Lead Instructor and head of instructor development (2002—2008) — Cycling Solutions Canada / Cycling Solutions USA
Lead Instructor and Instructor Trainer (2003—2004), Instructor (2002) — Bike to Work Victoria's Traffic Skills Course
Lead Instructor and Instructor Trainer, Greater Victoria (2002—2005) — Insurance Corporation of British Columbia's Bike Smarts school-based program
Other related work
Collaborator on North American edition of 'Cyclecraft' (John Franklin, author – see below)
Transportation Demand Management Coordinator, University of Victoria 2005/2006 (Victoria, BC, Canada)
Co-Coordinator, Bike to Work Week 2002 (Victoria, BC, Canada)
Coordinator, Bike Month 2001 / Commuter Challenge (Nanaimo, BC, Canada)
Represented Go Green at Union of British Columbia Municipalities trade show 2001 (Vancouver, BC, Canada)
Bike Route Planner — worked with Urban Systems and Department of Parks Planning and Development, City of Nanaimo to establish bike routes throughout the city 2001 (Nanaimo, BC, Canada)
Coordinator, Bike Week 2000 / Commuter Challenge (Nanaimo, BC, Canada)
Cycling advocacy affiliations
Volunteer and instructor, Austin Cycling Coalition (now BikeAustin) (2010-2013)
President, British Columbia Cycling Coalition (BCCC) (2003-2004 / Director, 2000-2007)
Member, Education Committee, Greater Victoria Cycling Coalition (GVCC) (2004-2005)
GVCC Delegate to ProWalk/ProBike Conference 2004 — Victoria, BC
Founding Committee Member, Pro Walk/Pro Bike 2004 Host Committee (2003-2004)
Director, Greater Victoria Bike to Work Society (2003)
Vice-Chair, City of Victoria Cycling Advisory Committee (2002-2003)
Director, Greater Victoria Cycling Coalition (GVCC) (2001-2002)
GVCC Delegate to ProBike/ProWalk Conference 2002 — St. Paul, Minnesota
Active Member and Advocate, Greater Nanaimo Cycling Coalition (GNCC) (1999-2002)