Sample content from our online cycling courses.
---
Separate versions for the USA & Canada
---
---
Easily get access for your organization's personnel.

Individuals • Businesses • Government agencies • Universities, colleges, & schools • Non-profits • Advocacy groups • Charity ride organizations • Cycling clubs

Bulk purchase discounts available. Details here.
---
Hi, Allan.

I think the team is really learning a lot from your courses!! WE certainly appreciate all of the effort that went into making them!

Thanks so much. You really have been wonderful to work with!

— Rachelle G, Office Manager & HR Administrator
Accel Robotics, San Diego, CA
---
Here are more testimonials .
---
What will you take away from this bicycling course?
Gain significant skills to help you be more competent & comfortable riding in traffic.
Discover the rights & responsibilities you have while riding your bike.
Explore proven ways to encourage more drivers to respect these rights.
Understand the impact of your actions in traffic, and how you can influence others to coöperate with you.
Reduce your chances of a crash or collision, or of getting a traffic ticket.
Increase your chances of gaining work involving cycling or transportation demand management.
No matter what type of riding you do, or want to do
commuting • recreational • delivery • touring • training for: triathlon / road / randonée / criterium / time trial
this course will help increase your comfort and competence out on the street.
5 hours of enjoyable, engaging, interactive content: video, text, photos, graphics, animations, & quizzes.

Many people are able to complete the course in 2 hours or less.

Learn from any location, at your own pace.
View it a bit at a time, or all at once.
Get it for yourself, or as a gift for a friend or family member.
"This is such an excellent resource. I've been commuting to school/work for 12 years and consider myself to be a pretty good rider, but I learned so much here. I've read plenty of things online and even a few books, but this addressed a lot of concerns I had and presented new info in a way that's easy to comprehend (the graphics and videos helped a lot).

"I liked that I could go back in when I wanted and it kept my place.

"I've been trying out what I learned on my rides this week, and it's already making a big difference. Thanks!"

— Stephen R.
---
Only $35* for 1 year of access.
30-day money-back guarantee. (Does not apply to ticket dismissal course.)
Return as often as you like to review and improve.
* In 2023, the price for the course will rise. Why?

In the last year, we've added a significant amount of content the course—more than 50%—as well as many navigational features. This has taken more than a thousand hours of development. The new price will reflect this added value available to you now at a lower cost.
---
Here's what we'll explore:
Being an MVP-C
Being an MVP-C
What does this mean?
Manoeuvrable: Creating space around you
Visible: Being seen, day and night

Overview
Daytime visibility
Nighttime visibility
Lights & lighting configurations
Clothing

Predictable: Helping others make the right decisions

Set up mutual communication
Make your own decisions
Know what's coming
Give advance notice
Other ways to make it easier

Communicative: Getting across the right messages

Overview
What do we need to communicate?
How can we communicate?
Lane choice & lane positioning
Hand signals, higher cadence, eye contact, sound
Think people, not cars
Making it positive

Putting it all together: MVP-C
Equipment
Equipment
Optional: Parts of the bike
Checking your bike for safety
ABC Quick Check
A more detailed check
'Do it yourself' vs. 'Let them do it'
Sizing, configuring, & adjusting your bike
Checking for fit
1) Frame size
2) Saddle height
3) Saddle position: forward/back/tilt
4) Handlebar position
Making adjustments
Required & optional equipment
Brakes

Including fixed-gear bikes ('fixies')

Lighting

What's needed, and when
Lights & lighting configurations
Reflectors & reflective materials
Using more than the basics

Helmets

Overview
Choosing a helmet
Wearing it right
Putting the helmet on
Checking that it's the proper size
Parking your bike
Deterring bike theft
Where to park your bike
How to lock it up
What kind of locks?
Just in case… (insurance & registration with police)
Bike handling skills
Bike handling skills
Braking
Practicing out of traffic
Using the right touch
Covering the brakes
A two-step method
The front brake, & how much
If the rear wheel skids
Both hands on the bar
Planning ahead
Brake on clean surfaces
Slippery when wet
Dry the brakes in wet conditions
Pedalling at a higher cadence (RPM)
Physical benefits
Communication benefits
How fast should you pedal?
Riding in a straight line
Scanning behind
Getting a 360° view
Steps to make it easier
Practicing the technique
Refining the technique
Optional section: Shifting gears
What do we mean by 'gears'?
The purpose of shifting
Derailleurs
How many gears does my bike have?
Choosing a gear
What gear am I in?
When to shift: speeding up/going downhill
When to shift: slowing down/climbing hills
Shifting: front vs. back
Shifting: front & back at same time
Reducing wear on gears & chain
If the chain comes off
How people behave in traffic
How people behave in traffic
Your reaction to other people's errors
Video: It's a 3-Way Street
How do these behaviours come about?
Your attitude and its impact
Monitoring your thoughts
Evaluating your skills
Learning from your experiences
Your rights & duties
Your rights & duties
Knowing your true place in traffic
The same rights & duties
"But you don't pay for the roads!" (Yes, we do.)
What's the point of the law?
Knowing what to expect
Making decisions easier
Demonstrating what we expect
Our effect on other cyclists
Deterrence & compensation
Order & safety vs. convenience
What a traffic ticket means to you
The cost of a ticket
An overview of traffic laws
Multiple levels of traffic laws
Case law
Where do these laws apply?
How are the laws written?
Drivers' duties toward us
Disclaimer
A summary of common cycling laws
A quick snapshot
Rights & duties of cyclists
Operation of the bicycle
Position on the road
Sidewalk riding
Signalling
Riding side-by-side
Equipment requirements
Drugs & alcohol
Other

Bicycle as a vehicle
Electric bikes
Registration & licensing
Parking
Collision
Scanning & signalling
Scanning & signalling
Scanning for traffic
Why it's important
Review of steps to make it easier
When to scan
Using mirrors
Signalling
Why it's important
What we need to signal, and tips to make it easier
Turns
Lane changes
Change of position within a lane
Stops
Pulling onto the roadway
Waving thanks
Signalling—how, and how often?
Putting it all together
Scan, Signal, Scan, (if it's safe) Go.
How this looks in real life
Choosing your place on the road
Choosing your place on the road
Choosing a lane & lane position
A reasoned approach
Seeing things from a driver's perspective
Ride with traffic
Risks of wrong-way riding
How to choose your lane position
Avoiding roadside hazards
Giving ourselves space
How far right?
When you can move left
Controlling the lane
How this helps drivers
What your options are
Communicating with others
Some important considerations
Riding on one-way streets
What does controlling the lane look like?
Parked cars
The potential risks
What's a safe distance?
Legal responsibility for drivers & passengers
What a safe distance looks like
Bike lanes
Do we have to ride in them?
What are your options?
Intersections
Intersections
Lane position at intersections
A, B or C position?
Common driver errors at intersections, and how to discourage them
Stopping at an intersection
Positioning in bike lanes and at 4-way stops
Travelling through the intersection
If you ride in 'C' position
If a driver turns across your path
Regardless of what lane position you take…
Right turn only lanes
When stopping is required
Stop signs & red lights
What might you miss?
Go! No, stop!
Fewer decisions are needed
Drivers' perceptions
The cost of a ticket
What is the point of the law?
Where to stop
Right of way
Don't assume you have it
First come, first served
Yield to the person on the right
Yield if you are turning
Taking your turn
Pedestrians' right of way

Which is a legal crosswalk?

Communicate with others
Traffic lights
Why a green light doesn't mean 'go'
Judging the timing
Starting off quickly
Triggering traffic lights
Making turns
Right turns
Left turns
Changing lanes: moving from 'C' position
Changing lanes: with traffic around you
Changing lanes: signalling
Changing lanes: with no traffic around you
Using the gaps
Preparing for the turn
Lane position for the turn
Waiting position
Making the turn
Traffic circles & roundabouts
Efficient, but confusing for some
Order of priority
Go clockwise around the center
Signal directly before you exit
Video: How it looks in real life
Other riding situations
Riding:
on sidewalks
near buses & trucks
side-by-side
on paths & trails
Summary & feedback
Summary & feedback
Includes an option for a brief survey so you can let us know what you think of the course.
---
Complimentary sections from our courses:
(Links open in new window.)
Traffic skills
Bike handling skills
Equipment
---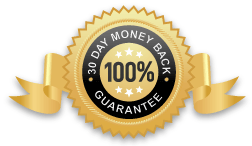 30-day money back guarantee!
I'm certain that you'll gain valuable insights you can use on your very next ride. If for any reason you're not fully satisfied, your money will be refunded.
– Allan Dunlop, Director
"Do I have to ride at the edge of the road, or can I control my lane?" • "How can I encourage drivers to give me enough space, and to cooperate with me?" • "What laws apply to me as a cyclist?" • In this course, you'll find the answers.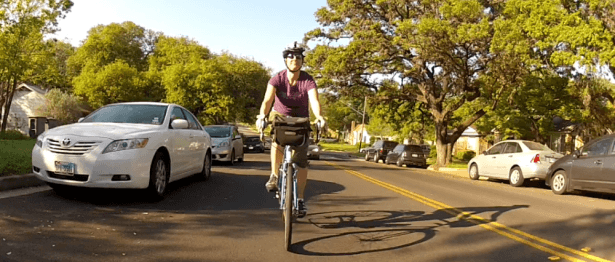 ---
Did you get a traffic ticket while riding your bike?
Have your fine waived and your ticket dismissed
by signing up for the
Defensive Cycling course
.

---