We Ride!
The Tour de Cure® is a series of fundraising cycling events held in 44 states nationwide to benefit the American Diabetes Association.
The Tour is a ride, not a race, with routes designed for everyone from the occasional rider to the experienced cyclist. Whether you ride 10 miles or 100 miles, you will travel a route supported from start to finish with rest stops, food to fuel the journey and fans to cheer you on!
Each Tour de Cure® event has its own character and style—from unique starting points to gorgeous scenery and more! Choose your state and read more about your local Tour. No matter where you ride you'll enjoy a fun day on your bike for a great cause.
Make your training rides safer and more comfortable! The Center for Cycling Education is pleased to provide training to ride participants via our online Traffic Smarts course.

Find out more about the course here.
In 2011, more than 55,000 cyclists in 80 events raised more than $18 million to support the mission of the American Diabetes Association: to prevent and cure diabetes and to improve the lives of all people affected by diabetes.
Why We Ride
Here are some of the reasons why Tour de Cure® riders say they ride:
"I ride for my Mom who has diabetes."
"I ride for my Dad who died from diabetes."
"I ride in honor of a friend that lives each day with this daunting disease."
"I ride for my son who has type 2 diabetes"
"I ride for myself!"
"I ride to support a worthy cause!"
"I ride for those with type 2 diabetes who are riding their bikes to stay healthy!"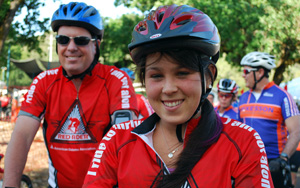 Why will you ride this year? What's your reason?
Many people will participate in the Tour de Cure® for the stimulating competition, camaraderie and physical cycling challenge, but the real reward comes in knowing that every mile we ride and every dollar we raise brings us that much closer to stopping this disease that affects over 26 million Americans.
Register today!
Resources:
Here are some quick videos that will give you a snapshot of how critical diabetes is in North America:
Sign up today!