You will find more details here.
For an overview of the training, please visit this page.
Location
Location for cycling lessons in Saskatoon
Learn-to-ride lessons in Saskatoon take place at Prairieland Park.
We meet inside the complex, at the corner of Lorne Avenue & Exhibition Grounds Road

. Just after you turn in, enter the first parking lot on the right (see images below).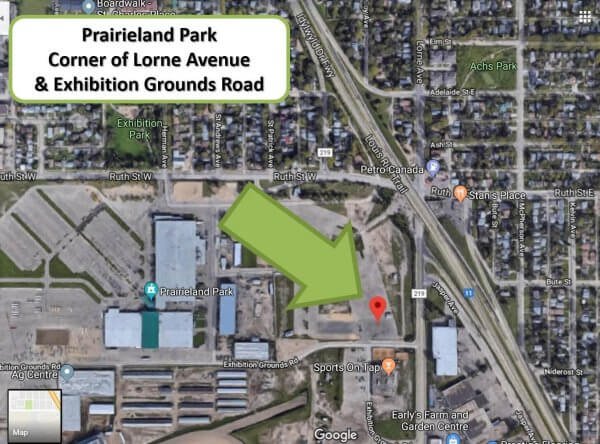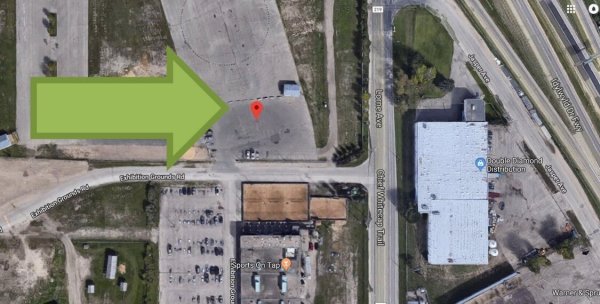 Preparing for the lesson
You'll want to make sure the participant (or you, if it's your lesson) is:
well-rested and well-fed. The lesson takes a fair amount of concentration and energy; these are important factors for success.

Please avoid scheduling a lesson that will follow another training or sports commitment.

provided with water/drinks/snacks to keep them hydrated, and keep their energy up (don't forget some for anyone accompanying them).
What to wear:
pants that are close-fitting at the ankles (to keep them out of the bike's chain), or
shorts (if it's warm) that are reasonably close-fitting; avoid basketball-style shorts with wide legs and a low crotch, as these can catch on the seat.
layered tops to adjust for changes in temperature.
closed-toed shoes (not sandals) that fit well and are not loose.
sunblock, with enough available for reapplying during the lesson.
Bicycle rentals
Bicycle rentals in Saskatoon, SK
(Please note: all links open in a new tab.

)

A bicycle can be rented from one of the following locations in Saskatoon. Please note that the rental prices may have changed since first publishing this guide.