The US and Canadian versions of our popular online course are now available!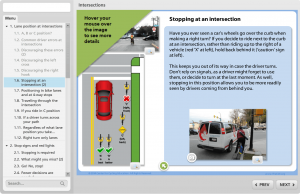 Valuable for experienced riders, as well as beginners.
"Do I have to ride at the edge of the road, or can I control my lane?" "How can I encourage drivers to give me enough space, and cooperate with me?" "What laws apply to me as a cyclist?"
These are interactive sessions incorporating video, descriptive text, photos, graphics, animations, and quizzes — 3 hours of content, depending on your pace. You can access the material on your own schedule, all at once or a bit at a time.
In this course, you'll find the answers. Learn more here.


For all ages and skill levels
The CCE provides the full range of courses offered by the League of American Bicyclists (Smart Cycling program) and the Cycling Canada (CAN-BIKE program).

Please note: We can accommodate individual requests for courses in the Austin, Texas area.
If you are interested in arranging a group course, please contact us and we can work with you to make this happen. There is a minimum charge for these courses, which varies depending on the location.
Few people would ever suggest just getting in a car and driving without learning the rules of the road and the proper techniques. Fewer still would want to share the road with a driver who skipped these steps.
Contact us for information on our full range of cycling training courses. Interested in a private lesson or in customizing a course to your (or your organization's) needs? Feel free to contact us, as we have considerable experience in both of these alternative options.